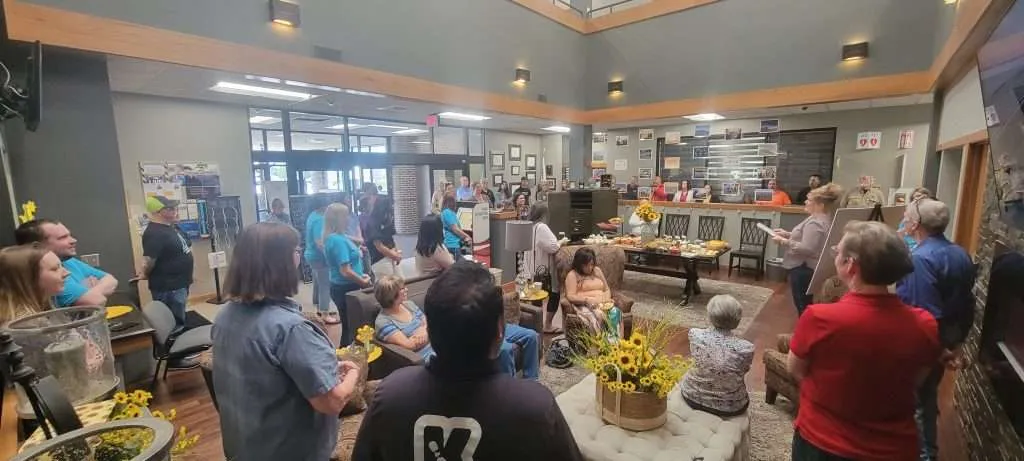 Going solar has never been easier! Pioneer Electric Cooperative created a bright burst of excitement with its consumer-members at a June 2 launch event to become the first of Sunflower's member-utilities to implement the Community Solar subscription program.
In March 2023, the Sunflower Board of Directors approved amendments to the Renewable Energy Rider to incorporate the Community Solar Program. The new program allows consumers the opportunity to share in the benefits of solar power without the long-term commitment, risks, costs, and maintenance associated with the installation of rooftop panels. The Community Solar program is administered at the retail level by Sunflower's seven member-owners and utilizes Sunflower's 20 MW Johnson Corner Solar facility located near Johnson City in Stanton County, Kan.
Participation in Community Solar is limited to residential members, and subscriptions are available on a first- come, first-served basis at a cost of $5 per share per month. One share is equivalent to 125 kWh or two solar panels. In return, a subscriber's monthly electric bill and energy costs will reflect the economic market performance of the subscribed number of solar shares.
"Pioneer launched the Community Solar program with a public event that was highly attended, created buzz in the community, and resulted in a good number of members subscribing to Community Solar shares," said Anita Wendt, vice president of energy services at Pioneer. "With more than 270 shares sold in the first month, we predict interest and participation in the program will continue to grow."
The program is available to both renters and homeowners who may have inadequate solar irradiance on their roof (too much shade) and gives those members uncertain about solar power a flexible option for exploring its benefits.
"It is important to Pioneer that we offer our members an easy way to make their energy consumption more economically sustainable by buying from a local, renewable resource," said Steve Epperson, former Pioneer CEO and current interim president and CEO of Sunflower. "Pioneer remains committed to making sure all forms of affordable, reliable energy solutions are available to those we serve."
In addition to Pioneer, several other Sunflower member-cooperatives are planning to launch their own Community Solar programs starting this fall and into early 2024.