Coal Supply
Sometimes called "Nature's black diamond," coal is technically not mineral, but a combustible sedimentary rock having chemical structure. It is composed primarily of carbon, hydrogen and oxygen, with smaller amounts of sulfur and nitrogen, and traces of other elements ranging from aluminum to zirconium.
Coal is an important fuel for generating electric power. Recoverable U.S. coal reserves are sufficient to last at least 283* years at the current consumption rate. The actual number of years those reserves will last depends on changes in production and reserve estimates. America's reserves account for 21 percent* of the world's known recoverable coal, the second largest total of any single nation. As of April 2016, about 30 percent of the electricity produced by the utility industry was produced with coal.*
Coal's characteristics vary widely from region to region. The various regional coals are broadly classified as anthracite, lignite, sub bituminous, and bituminous. Lignite generally has a higher sodium and moisture content and lower heating value (expressed in British thermal units), and anthracite is a low volatility coal. Because of these characteristics, both lignite and anthracite are considered least suitable for coal-fired generation of electricity. Coal quality has a significant impact on capital costs, operating and maintenance costs, and the design of major electric generating plant systems including the following:
Steam generator and auxiliaries
Particulate collection
Flue gas desulfurization
Coal and ash handling
Solid waste disposal
Sunflower purchases sub-bituminous coal mined in the Powder River Basin near Gillette, Wyoming. Coal from that area has the lowest sulfur content of any in the nation but a slightly lower heating value than harder bituminous coal.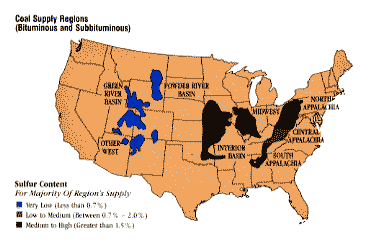 Typically, the Wyoming coal contains between .35 and .50 percent sulfur that is converted to sulfur dioxide (SO2) when the coal is burned. Sunflower then removes approximately 75 percent of this small amount of SO2 from the exhaust gases during the scrubbing process. This amount of SO2 removed by scrubbing exceeds the stringent federal permit requirements.
Coal companies have to meet strict mining requirements, reclaiming the land and protecting the environment. Prior to mining, coal companies are required to obtain various permits, including those related to air and water quality. Following surface mining, the land must be returned to original or better conditions suitable for plants and wildlife.
The coal necessary for Sunflower's operation can only be economically delivered one way —rail. Sunflower is considered a "captive shipper" because it has access to only one rail route, so Sunflower must aggressively pursue coal and rail pricing terms to remain competitive with other regional utilities that have access to alternative transportation suppliers. Negotiating the best possible coal and transportation contracts is an ongoing commitment Sunflower has made to its Members.
* based on the Energy Information Administration environmental data